Trinocular Polarizing Metallurgical Microscope 40X-2000X,Equipped with both reflected and transmitted
| | |
| --- | --- |
| | Trinocular Polarizing Metallurgical Microscope 40X-2000X,Equipped with both reflected and transmitted |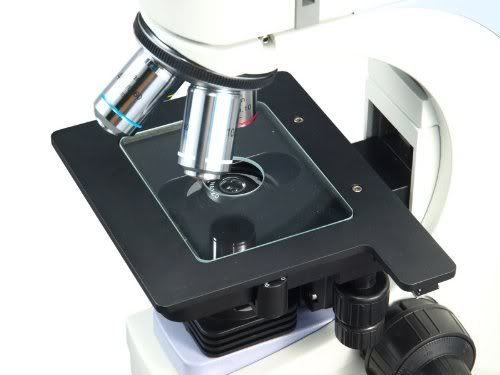 Metallurgical microscope is widely used for metallurgical, mineral identification and crystal, electronic integrated circuit examination and research.
This product features attachable polarizing plates and infinity-corrected plan field achromatic objectives. The 100X objective is dry (immersion oil free) to meet the special need during the examination. The long working distance of the 40X (2.8mm) and 100X (0.7mm) objectives makes it possible to inspect the rough surface.
Equipped with both reflected and transmitted illuminator systems, and attachable polarizing plates, this metallurgical microscope can perform as a normal compound microscope as well.
Warranty: 5 years
Retail value: $6000
Features:
High quality professional optical glass elements

30°inclined 360°rotatable

trinocular

Siedentopf

head

Triple layer mechanical stage with opaque metal plate and transparent glass plate

Reflected/transmitted polarizing illumination system

4 infinity-corrected plan field achromatic objectives, including a dry 100X objective

2 pairs of eyepieces: WF10X and WF20X

Extremely high resolution sharp images over a wide field view

All metal mechanical components

Manufacturer in business 30+ years
Specifications:
Model:

MT83BP

Total magnification: 40x-80x-100x-200x-400x-800x-1000x-2000x

Eyepieces: wide field WF10X/20 and WF20X

Objective: infinity-corrected plan field achromatic DIN 4x, 10x, 40x(Spring, WD 2.8mm), 100x(Spring, Dry, WD 0.7mm)

Head: 30°Inclined 360°rotatable

trinocular

Siedentopf

head

Nosepiece: revolving quadruple

EPI illumination: 6V/30W halogen bulb, position adjustable, intensity adjustable, with built-in condenser, iris aperture diaphragm, iris field diaphragm, 2 color filter slots and polarizer/analyzer slots

Transmitted illumination: 6V/30W halogen bulb, intensity adjustable

Condenser (reflected): built-in, spiral adjustment

Condenser (transmitted): attachable,

Abbe

NA1.25, rack/pinion focus adjustment, with iris aperture diaphragm and color filter holder

Stage: triple layer mechanical stage with opaque metal plate for reflected light and transparent glass plate for transmitted light, size: 15cm - 14cm, translation range 50mm x 75mm

Focus mechanism: Coaxial coarse & fine knobs on both sides with adjustable tension control and stop lever

Power supply: 110V 50Hz/60Hz (US and Canada)

Dimension: 18-7/8" x 7-5/8" x 20-5/8" (48cm x 19.5cm x 52.5cm)

Net weight: 19lb 3oz (8.7kg)
Packing List:
Microscope viewing head

Microscope stand

2 pairs of eyepieces: WF10X/18, WF20X

4 objectives: 4x, 10x, 40x, 100x

EPI light assembly

2 sets of polarizer and analyzer

3 color filters for reflected light

2 color filters for transmitted light

Photo tube

Allen key

Focus tension adjustment wrench

Power cord (US and Canada standard)

Extra halogen bulbs: 6V/30W

Extra fuses

Dust cover